Seed Processing for Abundance
Learn how to clean seeds easily & professionally at the homestead garden scale.
In this course you will learn…

* How to clean seed professionally.
* How to get started selling your seeds.
* To use low-tech, inexpensive methods.
* A framework that works with any type of seed.
* To work with annual, biennial & perennial seeds.
* The difference between dry and wet seed processing.
* Seed processing for any size garden up to small farm.
* From dozens of examples that demystify seed cleaning.
9 Modules
51+ Lessons
Step-by-step instructions
with detailed photos, videos and a reference guide… plus a bonus module on The Business of Selling Seeds!
This Course Includes
Each module clearly outlines the methods you will have available in your seed cleaning toolkit. We include numerous examples of seeds with varying shapes. You will learn how to apply the methods to nearly any seed that you may want to grow and clean.
Harvesting Seed
We cover how to time your harvest with a plant's lifecycle. We show you what to look for as seeds ripen on your plants.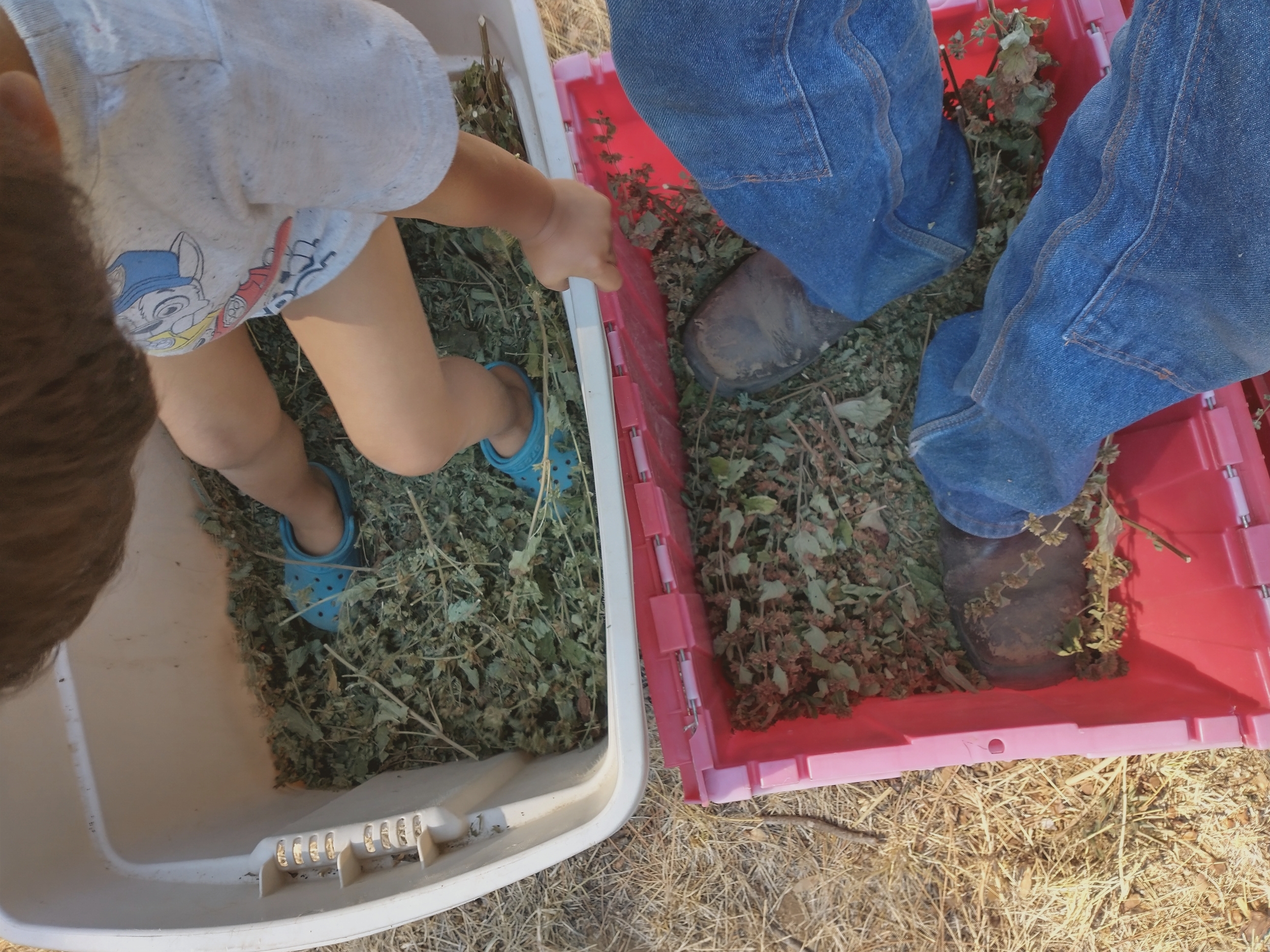 Threshing Seed
Learn how to separate seed from the dried flower head using your hands and feet as the primary tools. We cover many methods of threshing.
Winnowing Seed
We share how we use fan powered wind to separate heavier seed from lighter chaff. We offer many techniques and tips.
Screening Seed
Find out how to use screens to separate seeds from chaff. We encourage starting with inexpensive sieves, but professional screen options are also covered.
Wet Processing
Learn how to process wet seeded crops like tomatoes, squash, peppers as well as perennial fruit and berries. We share various methods and when to apply each one.
Storing Seed
We cover proper storage of cleaned seed to ensure viability and longevity. Learn the value of having backup seed stocks.
---
BONUS! The Business of Selling Seeds
Get started selling seed right away with our primer on starting a homestead seed business or part-time gig.
Meet Your Teacher
Hi, I'm Noel!
From the start of my homesteading journey I've had a huge passion for plant propagation and working with seeds.
Seeds have given me so much joy through experiencing their beauty and magic. I'm also grateful that they share an opportunity for our family to create an additional revenue stream through stewarding and selling seed from our homestead garden.

One of my passions is working closely with a wide diversity of perennial plants. I am honored to share insights from my unique skillset. This course covers processing not only annual and biennial seed, but also includes solid knowledge regarding cleaning and stewarding perennial seed including seed from temperate herbs, berries and fruit.
Lately I'm working toward more resilience in our homestead gardens by embracing genetic diversity and always, always learning to work with Mother Earth.
I'm grateful you're here!
Our Family's Background with Seeds
Ann and I have been growing, cleaning and selling seeds at the homestead scale for 6+ seasons. When we first learned how easy and fun it was to clean seeds with low tech methods, we started our own homestead seed company selling seeds by the packet directly to gardeners. Since then we've switched to growing small contracts for a regional seed company.
Learning to process seeds empowered us with an additional revenue stream for our homestead and deepened our relationship with plants and their seeds.
We believe this skill and knowledge needs to be shared to encourage and empower others in the way it has changed our lives. Seed stewardship skills are needed in every region, every community, every neighborhood to help ensure our resilience, independence and connection with nature.
Homestead Culture's course, Seed Processing for Abundance, acts as a comprehensive guide detailing the multi-faceted process of seed production for homesteaders and aspiring seed farmers alike. Creators Ann and Noel share their knowledge and passion for seed preservation through detailed explanations of each step of the process, offering helpful examples to illustrate their methodology along the way. They skillfully anticipate many of the common mistakes and potential risks that accompany seed production, offering troubleshooting suggestions that prove helpful to both beginners and more seasoned seed savers. Seed Processing for Abundance is an excellent resource for all levels of seed producers as it highlights the joy of saving and producing seeds while making the process accessible and inspirational!

Ellyn Greene — Owner and operator of Wayward Acres, Oregon
The proper way to save seeds for your food bank can be learned through trial and error over years of moldy or insect-ridden stores and poor harvests, or it can be learned through this thorough and knowledgeable course on seed saving. We all seek tips from those more experienced than ourselves, and this course delivers. Easily followed, well laid-out, this seed-saving course is packed with information and personal experience, as well as tips on how to sell seed. It explores harvesting, preparing, and storing seed without complicated or expensive equipment, and even shows how to easily winnow grains. Save yourself years of disappointment and take homesteadculture.com's seed-saving course.

Diane C. Kennedy — Finch Frolic Garden Permaculture, Southern California
Seeds are epitome of abundance. Nature is inherently abundant and relies on a myriad of everything so she can thrive. The simplest step away from the scarcity paradigm so deeply ingrained in our minds in the very recent several millennia… is the act of seed saving. A powerful creative act of natural selection, simple, but profound. For beginners and more advanced growers alike, this course will offer you a comprehensive process, a step-by-step guide and a deeper understanding of the culture of seed. While it's impossible to encompass such a broad topic in a single book or video or course online, "Seed Processing for Abundance" will help you take your first confident steps on a never ending path towards regeneration, abundance and love for those tiny, yet mighty heroes, the seeds.

Bobby — Small Scale Permaculture, Bulgaria
Enroll Now!
Enjoy immediate access to the full course for life.
$59
This course

is

for:
Homesteaders looking for in-depth and comprehensive guide on seed cleaning.
Anyone interested in generating an income from selling home grown seeds.
Serious gardeners wanting a more intimate connection with seeds.
Anyone who wants to learn how to clean and store large quantities of seeds for food.
Students wanting to learn seed cleaning with a method that can scale from the home garden up to a small farm operation.
Individuals wanting to offer quality seed to their communities at local seed swaps.
Gardeners that want to see if seed cleaning is something they enjoy.
This course isn't for:
People that don't care about growing seed for selling, sharing or eating.
People needing a course that teaches the ins-and-outs of plant breeding and seed selection.
Large farmers whose scale requires expensive specialized equipment.
Those who don't see the value in stewarding local seed.
Those not caring to further their relationship with plants and seeds.
Those that don't see the importance of resiliency through local seed.
Those that don't get excited about having a more intimate connection to life cycles in the garden.
Just completed the Seed Processing for Abundance by Noel and Ann of Homestead Culture. WOW! So impressed with the thoroughness of this online course. It covers all aspects of seed saving, storage, and selling. I am a visual learner and love hearing about lessons learned in the field (best kind of education out there). Noel and Ann have created a learning line that speaks from their experience, education and hearts. They share with you their mentors and cite resources that they learned from along the way. There are pictures and/or videos in most lessons to make it clear to the processes they are teaching you. There are also helpful links to more in-depth information if you want to dive in deeper into a particular lesson. The lessons are diverse not only in the seed saving conversation, but in budgetary diversity and geographic considerations. Whether you are in the South or the Northwest you aren't left out.

Formerly a Community Farmer from Southern California now located in the South, learning to grow in a more humid environment—Noel and Ann address how to be mindful of storage when living in humid environments, and options to consider.

I have started seed saving and had concerns about the seeds I saved not being true to the parent as my plots are close together. I have been set FREE from this mind set of achieving seed "purity" as the lesson plan introduced me to Grexes and Landraces!!!! I have always loved my vegetables grown from my seed saving but there was always the notion that things need to be true and pure in seed saving. As I go through my life one of my little golden rules has always been diversity and moderation in all things. I was glad to be reminded it applies to seeds TOO!

Thank you for creating such a loving impactful Homesteading Classroom that makes you feel like you are part of the family as you share with us your love of life, seed and Mother Earth.

Gloria Broming — Former Community Farmer, Tennessee
Frequently Asked Questions
How long will I have access to this course?
This course is evergreen so you will have ongoing access! You can access the course anytime. Progress at your own pace.
Are you available for help during the course?
Yes! We'd love to answer questions that may come up in your seed cleaning adventure. Every lesson in the course has a comment section. We suggest asking questions in the comments so that everyone can learn together.
What is the format of this online course?
The materials are presented as a series of lessons, organized into modules. You can follow the course chronologically or jump around as desired. While most of the content is written, there are also detailed images and helpful videos to help demonstrate crucial details and processes.
If I change my mind after purchasing can I have a refund?
Due to the nature of sharing digital content, we do not offer refunds.
What if I want to learn how to clean a specific seed?
This course includes many, many examples of cleaning seed through photos and videos. In those examples, processing seed of many distinct species of veggies, herbs and flowers are demonstrated.
Through these examples my goal is to show how I work with seeds of various shapes, sizes, weights, and textures. Through this variety I hope to demonstrate how you can take what you've learned and apply the skills to any type of seed you may encounter. I want to help empower you to work with any seeds that interest you.
With that said, I don't claim to offer examples of cleaning every seed out there. If you are working with a seed that doesn't have similar characteristics to our examples, or if you get stuck processing any seed you are working with, you can reach out in the comments for feedback and we will help with feedback.
Do I need to be a homesteader to take this course?
Actually no! While this course is intended for homesteaders that want to learn to process seed professionally, its also ideal for any passionate gardener that wants to learn the ins and outs of seed cleaning.

As a matter of fact, we use the techniques shared in this course to clean seeds that our family consumes. For example we clean beans and corn prior to storing them in our pantry for cooking and eating. We also clean many seeds to use as spices such as fennel seed, mustard seed, breadseed poppy, onion seed, etc. We've even winnowed some cracked nuts from their shells using the process outlined in this course.
What if I want to grow seed at a farm scale?
The seed processing methods that we share are scalable from an urban garden on up to a small farm scale. We are sharing low-tech options for cleaning seed without machinery (other than a box fan).
The methods we are presenting are tried and true, having been put to the test through the ages for small farms and homesteads alike. In fact we initially learned how to clean seeds using these low tech methods from farmer Don Tipping at Siskiyou Seeds who proves every season that expensive specialized equipment are not needed to clean seeds at the farm scale.

Even if you decide to invest in specialized equipment later to mechanize and speed up the processes, its a great idea to learn the fundamentals of low tech seed cleaning by hand initially.
As a bonus we also offer suggestions and resources for homemade seed cleaning machines for the DIY-ers that want to save money from buying new seed cleaning equipment.
What supplies will I need?
Our initial investment in supplies that we still rely on was under $30. Many of the supplies we already had on hand. The rest were purchased second hand in thrift stores and yard sales. That doesn't preclude you from buying new supplies, but it doesn't have to be expensive.
For dry processing you will need:
Box fan with a speed dial.
Plastic containers of various sizes for holding seed heads and seeds such as: Yogurt containers, 5 gallon buckets, totes (plastic bins). For larger size seed crops used plastic barrels are handy.
Tarp and old pillowcases (optional)
Screens. We use kitchen sieves and colanders that are easily found at thrift stores. You can also make your own, or purchase professional screens. Each option are outlined in more detail in this course.
Mask or bandana (recommended) for protecting your lungs from dust while winnowing.
For wet processing you will need:
Containers of various sizes: 5 gallon buckets, quart or gallon jars or yogurt containers.
Screens (optional but helpful)
Water.
What are your qualifications?
We both attended the Seed Academy training at Siskiyou Seeds in the Spring of 2018.
We have been growing, ethically wildcrafting, cleaning and selling seed for 6+ seasons.
We currently grow small seed contracts for a local seed company.
We previously ran our own family seed company selling seeds directly to gardeners.
We steward seed for many of the crops that we grow in our homestead gardens.
We both hold permaculture design certificates from The Ecology Center and San Diego Living Institute.
We have apprenticed directly with mentors at over a dozen farms (urban & rural), homesteads and permaculture gardens.
We have over 12 years of gardening experience including two suburban gardens and three rural gardens.
Noel has held various paying jobs at a permaculture garden, a bio-dynamic orchard and a native landscape design company.
Ann has held various paying jobs in the field of flower farming.
We love seeds!!
Still have questions?
Please contact us, we'd love to hear from you. 🤍