Delectable Dandelion Hamburger Recipe
I am often trying new ways to cook with weeds so that our family's bodies can benefit from their abundant nutrition while leaving our tongues and bellies craving more. Dandelion is one of our favorite weeds because she is free, self sowing, abundant, easy to harvest and beautiful! Nutritionally, her leaves and roots are packed with minerals.
This is the first time that I made a Dandelion hamburger but its not my first rodeo when it comes to combining weeds and meat. The meal turned out so good that I am confidently sharing the recipe. We'll definitely be coming back to make Dandelion Hamburgers time and time again because our whole family loved it, including our 3 ½ year old!
We enjoyed this meal around the time of May Day, or Beltane, the special cross-quarter time between Spring Equinox and Summer Solstice. Summer was officially starting. Wild greens were abundant but we had not yet fully planted out the garden with our summer crops. Nights were still cool but we were enjoying the warmer days. Everything seemed to be vibrant with fruit trees blooming, grass greening up and growing, trees starting to leaf out.
This time of year is always magical to be sure. This meal was a celebration of the spring fare that was already available and abundant in our garden, both wild and cultivated. Please consider this delicious recipe a gift from our family to yours.
Celebrating Seasons with Local Food
We wanted to celebrate the seasons shifting with a special meal that we could eat outside in the garden on this particular warm May 3rd.
The idea for this meal started from a whim a few days prior. Before the though even registered, I heard myself blurt out to Ann: "If you make some sourdough buns, I'll make some burgers." Where that particular idea came from, I'll never know, but I remember appreciating all the sourdough baking she had been doing lately and wanting to reciprocate her efforts with a delicious pairing, a coming together of our creative hearts around food.
As the words flowed from my mouth Ann's eyes lit up. Apparently we both had been craving some red meat.
We feel honored to eat the ground beef from Dexter cows grown on a neighbor's field. We love hearing the cows moooo to each other throughout the day as their calls and bellows float up the hill to our gardens.
Our neighbor's ground beef is unique in that it is made from the whole cow, so it includes all the premium cuts as well. It really is the best ground beef we've ever tasted.
When we first started eating this ground beef we were surprised to see how bright red and bloody it is compared to store bought ground beefs. We feel lucky that the beef we eat contains so much rich heme and iron that our bodies crave from time to time.
Because the cows graze our neighbor's pasture, I often jokingly comment that we are eating that pasture when we eat her beef. It really doesn't get much more local than that!
We also love eating local herbs and feel empowered to be able to grow nearly all of our culinary herbs and green nutritional needs from our own garden. Herbs are often some of the easiest plants to grow and Dandelion really shines in that department.
Gardening with Dandelion helps my thumb look greener, but in truth I am stepping out of her way and allowing her to show me where and how she wants to grow. I often weed around Dandelions because she is one of our prized garden companions. (More on why I love Dandelion so much here.)
Sometimes when I prepare a garden space for planting vegetables, inevitably some Dandelions will be lifted out of the soil. I always love these opportunities because I get a harvest of bountiful food while planting another; a beautiful ritual where the garden teaches me how to appreciate the circular nature of time.
The Harvest
On this spring morning I proudly walked down from the garden carrying the precious whole dandelion plants that were just dug. The plan was to include the whole Dandelion plants in the burger meat itself, as part of the burger patty.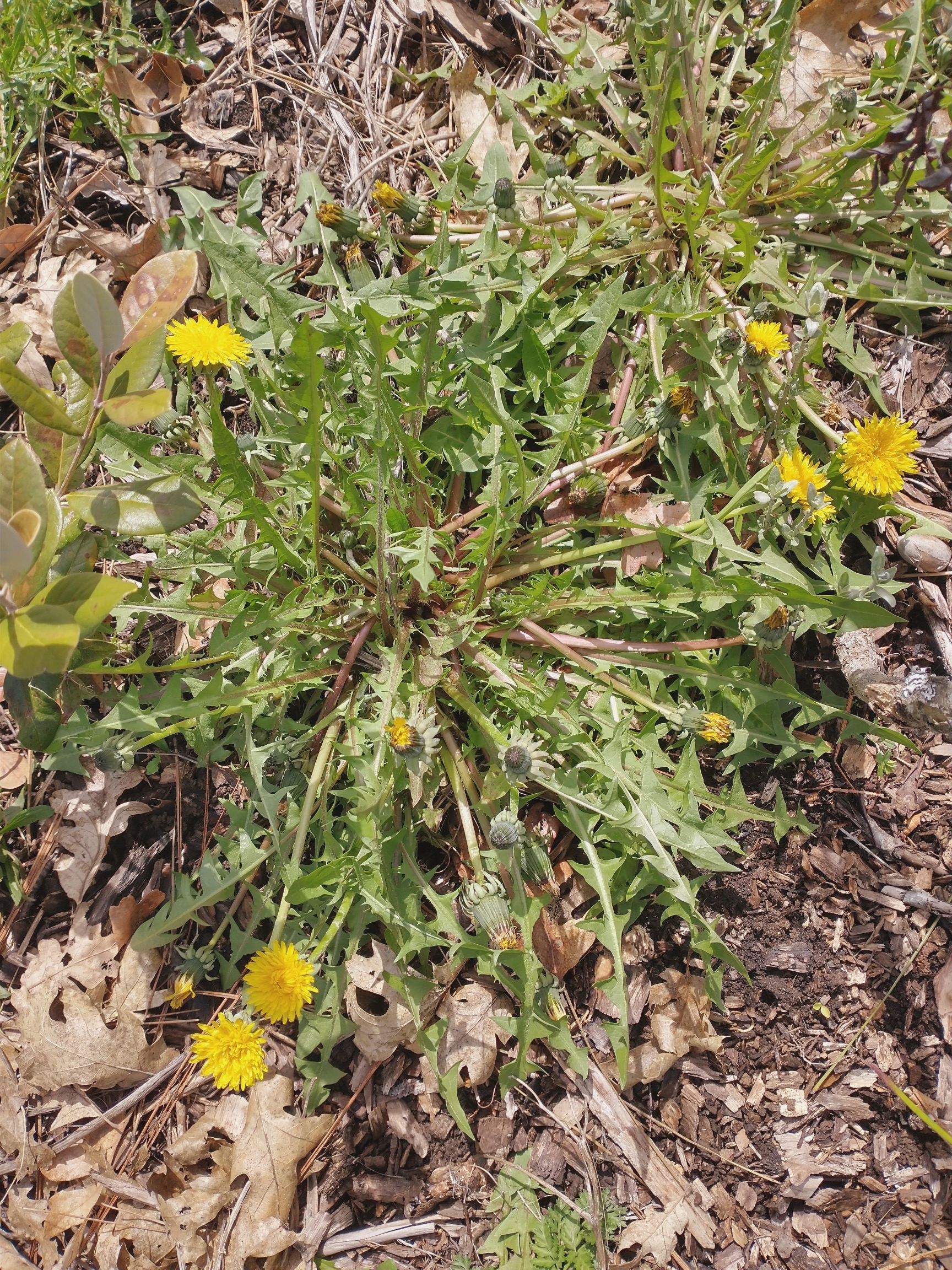 The first thing I did in the kitchen was slice a baking tray full of potatoes so that we could have some french fries with our meal. While it was baking we continued prepping the rest of the meal.
We wanted a fresh spring salad with our meal. Given that our lettuce was only an inch or two high and not really enough to harvest yet our salad would have to be fully wild. Luckily Chickweed and Miner's Lettuce were kicking into full gear. So I walked around the to a few spots both inside and out of the gardens where I knew they were thriving to harvest the salad greens.
Finally I returned to the garden to harvest Valerian leaves for the greenery in our hamburger. In the spring before they are flowering, Valerian leaves make an delicious salad green. The texture ranges from soft and buttery like a butter lettuce in the early spring to a bit crunchier than, but not as juicy as a hearty Romaine lettuce leaf in the late spring or early summer. Aside from including them in salads and spring rolls, I love using Valerian leaves in place of lettuce for sandwiches.
My friends are often surprised to hear that we eat Valerian leaves, raw no less. Younger and early season Valerian leaves are very pleasant tasting and have only the mildest hint of the root's flavor. But they won't knock you out like Valerian root does. I don't think Valerian leaves are sedating but if they are, it is so mild that we don't notice it.
While we're on the subject, I highly recommend planting Valerian as a perennial spring salad green and the root is also handy to have for making tinctures for those times when extra help is needed falling asleep. They are easy to start from seed!
Coming Together in the Kitchen
Ann had already made the delicious sourdough buns the day before using the inevitable extra sourdough starter as she feeds her culture. As I formed and fried the burgers, Ann quickly whipped some of our friend's spring duck eggs with olive oil and home grown garlic to make Aioli sauce for spreading on our buns and dipping our french fries.
The salad was chopped and tossed with an oil and vinegar dressing. Finally the potatoes were pulled from the oven and it was perfect timing because they were golden and crispy.
The meal was perfect and the setting was delightful as the three of us sat bare feet in the grass and enjoyed the delicious sunlight and the gorgeous view of a constellation of dandelion flowers in full bloom all around us.
With enough food to spare for our small family of three we enjoyed the same meal each lunch for the better part of a week. I left the raw burger mix in the fridge and pulled it out to fry fresh burgers with each meal.
Ingredients
1 lb ground beef
4-5 small to medium whole dandelions (leaves, flowers and roots)
Several handfuls of fresh lemon balm leaves
2-3 green onions chopped or half a small onion minced
A few dashes of Herbal vinegar
1 tsp mustard seed
1 tsp fennel seed
1 tsp cumin seed
1/3 cup saved sourdough bread crumbs
Salt to taste
2-3 chicken or duck eggs
Preparation
Finely chop the Dandelion leaves, flowers, roots and Lemon Balm.
Add the dandelion, lemon balm and chopped green onions into a pan and fry on low to medium heat in a small amount of oil, stirring regularly until it is completely limp and excess moisture has evaporated.
Transfer the cooked herbs into a mixing bowl with the ground beef and the rest of the ingredients.
Mix thoroughly until everything is evenly incorporated.
Scoop a handful of the mixture and form a burger patty to the desired size and fry on medium or medium-low heat until your desired done-ness is reached. If your meat is lean you might want to use a bit of oil to prevent sticking.
Place a slice of cheese on the burger after the first flip, if desired, so that it can start melting.
Serve and enjoy!
Seasonal Substitutions
The best part of this recipe, as with pretty much all of our homestead recipes, is that it can be modified to fit whatever is in season in your garden at this particular time of year. I happened to be favoring herbs and onions that were fresh in our garden that time of year.
Pretty much all of the ingredients are optional except for the eggs which are very helpful for binding everything together. For example we save breadcrumbs from our bread cutting board for meals like this.. but that ingredient is completely optional, so you don't need to go buy it if you don't already have it available.
Except for the cumin, which we adore, I was favoring seeds and spices that we had grown and harvested the previous season.
And the herbal vinegars that we keep on hand shift season to season based on what we had put up in the prior year. Currently on our shelf we have Lemon Balm vinegar, Grape vine and tendril vinegar, Mugwort vinegar, Yarrow vinegar, St. John's Wort vinegar. This season we'll probably try making some vinegars from different herbs.
Here are some substitution ideas:
Substitute the Dandelion roots and leaves for first year Chicory roots and leaves which taste very similar.
Dandelion's leaves can be swapped for other nutritious leaves such as French Sorrel, Lemon Balm, Oregano, Stinging Nettle, Yellow Dock, etc.
Substitute the Dandelion Roots for other nutritious roots such as Burdock root, Carrot, Marshmallow root, Skirret, etc.
Choose your favorite and/or homegrown seeds or spices in place of what I listed in the ingredients.
You'll note that tomatoes weren't included because they aren't in season yet! (The tomatoes weren't even planted yet at the time.) But if we made this dish in late summer or early fall you can bet your boots that we'd include tomato slices!
More from this author